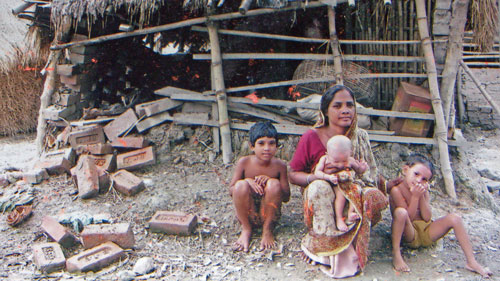 By Ian Scoones, Co-Director, STEPS Centre
The second session at the JNU-STEPS Symposium focused on how uncertainties generated by climate change are appreciated both 'from above' and 'from below' – and indeed by those in the middle. Three highly contrasting rural and urban case studies from Delhi and Mumbai, presented by Alankar of Sarai, Kutch in Gujarat, presented by V. Vijay Kumar of the Gujarat Institute of Desert Ecology (GUIDE), Bhuj, and the Sunderbans in West Bengal, presented by Upasona Ghosh, Indian Institute of Health Management Research (IIHMR), Kolkata, were discussed. Each showed how local understandings of uncertainties are attuned to "the contexts of the lived practices and rhythms of everyday life", as Sheila Jasanoff has put it.
A particularly evocative 'Photo-Voice' story, offered by project team member Shibaji Bose from IIHMR, combined words and images from the three sites. Uncertainties are deeply embedded in the struggles of daily life, often in the contexts of extreme marginality and poverty. Perceptions, emotions, personal experiences, social relations were brought to the fore. This helped move our understandings beyond more technical perspectives on uncertainty, and made the invisible visible in an immensely powerful way. The next step in the research involves providing cameras to research participants to document their own visual narratives about uncertainty and the challenges they face. As a route to exposing alternative pathways from a local perspectives this is potentially a fascinating and powerful response, one that simultaneously allows voice and representation, as well as the ability to translate and communicate with those in power, very often imposing a view 'from above'.
While the simple heuristic contrasting 'above' with 'below' offered a good hook, discussion also focused on how such a dichotomisation is also too simplistic. A greater theorisation of the networks of power that exist in such different spaces was urged. This of course recalls the older debate about 'indigenous knowledge', and how 'modern' and 'local' knowledges should not be seen as distinct, but more significant are the relations of power that exist in the constructions of knowledge, and the encounters that exist between different knowledges. When negotiating climate change responses, encounters take place between formalised, accredited knowledge in the form of climate models that often tame uncertainties through statistical procedures and informal, often hidden, knowledges rooted in field practices and embedded experiences.
Too often knowledges are not negotiated and the encounters are wholly one-sided. Yet as the presentations pointed out there is increasingly a role for mediation by a variety of 'brokers', intermediaries might include front line, field-level bureaucrats, researcher-activists, projects and community organisations. However such roles are often not recognised, nor rewarded, as discussed in the advocacy of the idea of 'sustainability brokers' in the Slow Race.
How can such conversations emerge? Mike Hulme from King's College London argued that we need to abandon some of the baggage associated with the policy debate on 'climate change', and "develop a new narrative on climate change, focusing climate and its changes". Sue Hartley from York University argued that scientific practice needs to change too, commenting that "natural scientists need to get more relaxed about variability… outliers are often the more interesting data points". But such shifts need political pressure. Mariano Fressoli from the Institute of Studies on Science and Technology – National University of Quilmes (IESCT_UNQ), Buenos Aires, asked how does invisible, decentred expertise, rooted in place-based citizens' knowledge get articulated politically – what is the role of social movements in creating bridges, fostering translation, and building alternatives?
As highlighted by Lyla Mehta from the STEPS Centre observed, if perspectives 'from below' are to generate truly sustainable pathways, they must move beyond simply reification of poverty driven coping strategies to ones that challenge power relations, and provide space for subaltern alternatives. This means challenging power relations and shifting patterns of control. For those living in the flood-prone Sunderbans, a wider political economy must be made central – it is not just a matter of how embankments are constructed, but also who has control of these, and how wider patterns of global consumption influence flooding through climate change.
Thus sustainability must encompass a politics that is both local and global, bringing perspectives from above to engage with those from below, mediated and facilitated by new players and new methods and media such as the photo story that allow new conversations to emerge, new actions to unfold and a new politics of sustainability to flourish.